* Educación rural un acercamiento pedagógico* La escuela y la comunidad rural: Guía didáctica
Revista Electrónica Educare

Universidad Nacional
Abstract
Publicaciones:
Educación rural un acercamiento pedagógico (Autora: María Ester Aguilar Mora, Noé Carvajal Alvarado, Yadira Cerdas Rivera, Edgar Céspedes Ruíz, Marta Eugenia Monge Piedra, Sandra Ovares Barquero, José Solano Alpízar y Bart van der Bijl, Heredia, Costa Rica: Litografía e Imprenta Segura Hermanos S. A., 2000)
La escuela y la comunidad rural: Guía didáctica (Autor: Bart van der Bijl, Heredia, C. R.: Universidad Nacional. CIDE. División de Educación Rural, 2000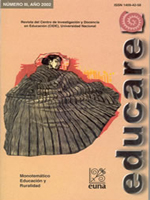 How to Cite
Educare, R. E. (2002). * Educación rural un acercamiento pedagógico* La escuela y la comunidad rural: Guía didáctica. Revista Electrónica Educare, (3), 199-199. Retrieved from https://www.revistas.una.ac.cr/index.php/EDUCARE/article/view/1002
1. In case the submitted paper is accepted for publication, the author(s) FREELY, COSTLESS, EXCLUSIVELY AND FOR AN INDEFINITE TERM transfer copyrights and patrimonial rights to Universidad Nacional (UNA, Costa Rica). For more details check the Originality Statement and Copyright Transfer Agreement
2. REUTILIZATION RIGHTS: UNA authorizes authors to use, for any purpose (among them selfarchiving or autoarchiving) and to publish in the Internet in any electronic site, the paper´'s final version, both approved and published (post print), as long as it is done with a non commercial purpose, does not generate derivates without previous consentment and recognizes both publisher's name and authorship.
3. The submission and possible publication of the paper in the Educare Electronic Journal is ruled by the Journal's editorial policies, the institutional rules of Universidad Nacional and the laws of the Republic of Costa Rica. Additionally, any possible difference of opinion or future dispute shall be settled in accordance with the mechanisms of Alternative Dispute Resolution and the Costa Rican Jurisdiction.
4. In all cases, it is understood that the opinions issued are those of the authors and do not necessarily reflect the position and opinion of Educare, CIDE or Universidad Nacional, Costa Rica.
5. The papers published by Educare Electronic Journal use a Creative Commons License: