Perception on the Use of ICTs in the Teaching Practices of Special Education Teachers
Raquel A. Aburto Godoy

Universidad del Bio-Bio, Chile
Keywords:
Special education, ICTs, teacher, perception, technology
Abstract
This paper includes the results of a questionnaire on the perception and use of technological resources in the teaching practices developed by special education teachers who worked with differentiated groups in the community of Chillán, Chile, during 2009. This questionnaire was applied through the 2.0 Google Docs tool. The answers provided by the participant teachers were analyzed through statistical tests, with a descriptive design. The questionnaire applied was created and validated for this research; therefore, this research project provides an accurate, easy-to-apply tool for the scientific community.
References
Aburto, R. (2002). Abecedario Letrado (v.1.0) [CD-ROM]. Chile: Aburto, Raquel.
Aguirre, A. M. y Marín, E. (1994). Indicadores e instrumento de evaluación de la calidad del
software educativo. Enseñanza y tecnología, 3, 25-28.
Carmo, H. y Malheiro, M. (2008). Metodologia da investigação. Guia para auto-aprendizagem
[Metodología de la Investigación. Guía para el autoaprendizaje]. Lisboa, Portugal:
Universidade Aberta.
Chile. Ministerio de Educación, Departamento de Estudios y Estadísticas (2003). Metodología
para agrupar establecimientos por nivel socioeconómico. Prueba SIMCE. 4° Básico 2002.
Recuperado de http://www.mineduc.cl/biblio/documento/396_Construccion_de_grupos_
comparables_de_establecimientos_SIMCE_2.pdf
Cibal Multimedia (1996). Pipo Aprende a leer (v.1.0) [CD_ROM]. España: Cibal Multimedia.
Colegio de Profesores de Chile. A. G. (2000). Estudio de la salud laboral de los profesores de
Chile. Recuperado de http://www.opech.cl/bibliografico/Doc_Docente/Estudio%20de%20
Salud%20Laboral%20de%20Profesores%20en%20Chile.%20MINEDUC-PUC.pdf
Costa, F. y Viseu, S. (2008). Formação - Acção - Reflexão: Um modelo de preparação de professores
para a integração curricular das TIC [Formación - Acción - Reflexión: Um modelo de
preparación para professores para la integración curricular de las TIC]. En F. Costa, H. Peralta
y S. Viseu (Eds.). As TIC na Educação em Portugal. Concepções e Práticas [Las TIC en la
Educación en Portugal. Concepciones y prácticas] (pp. 238-258). Lisboa: Porto Editora.
Díaz, O. C., Rojas, S. L. y Vasco, E. (2000). La Educación especial en Iberoamérica.
(Colección Cuadernos de Educación Comparada, Vol. 2). Madrid: Organización de Estados
Iberoamericanos para la Educación, la Ciencia y la Cultura (OEI).
Díaz, V. (2001). Diseño y elaboración de cuestionarios para la investigación comercial. Madrid,
España: Esic Editorial.
Enterprise Centre. (1996). El mundo de las mates: La feria de los números (s/v) [CD_ROM].
Irlanda: Enterprise Centre.
Gallego, J. L. y Rodríguez, A. (2007). Tendencias en la formación inicial del profesorado en
Educación Especial. Revista electrónica sobre calidad, eficacia y cambio en Educción, 5(3),
-117. Recuperado de http://dialnet.unirioja.es/servlet/articulo?codigo=2354543&orden=131
&info=link
Gento, S. (2003). Educación Especial. Madrid, España: Sanz y Torres.
Gútiez, P. (2003). La evolución histórica de la Educación Especial. En S. Gento (Aut.). Educación
Especial (pp. 35-39). Madrid, España: Sanz y Torres.
Latorre, A., Del Rincón, D. y Arnal, J. (1997). Bases metodológicas de la investigación educativa.
Barcelona, España: Jordi Hurtado Mompeo.
McClintock, R. (1993). El ordenador como sistema. En R. McClintock, M. J. Streibel y G. Vázquex
(aut.). Comunicación tecnología y diseños de instrucción: La construcción del conocimiento
escolar y el uso de los ordenadores (pp. 7-32). Madrid: Secretaría general técnica, Centro de
Publicaciones.
Ministerio de Educación de Chile [MINEDUC]. (2005). Política Nacional de Educación Especial.
Nuestro compromiso con la diversidad (2ª ed). Santiago, Chile: Autor. Recuperado de
http://www.mineduc.cl/usuarios/edu.especial/File/DOCUMENTOS%20VARIOS%202008/
POLiTICAEDUCESP.pdf
Ministerio de Educación de Chile [MINEDUC]. (2007). Competencias TIC en la profesión.
Recuperado de http://www.enlaces.cl/portales/competenciastic/
Pavone, M. (2009). L'intégration Scolaire des élèves handicapés et la formation des Enseignantes
Spécialisés en Italie [La integración escolar de los alumnos discapacitados y la formación de
los profesores especialistas en Italia]. Les Sciences de l'éducation, 42(1), 33- 55.
Pérez, L. A. (2006). Marketing social Teoría y Práctica. México: Prentice Hall.
Pérez, L. C. (2003). Discapacidad y exclusión social en la Unión Europea. Tiempo de cambio,
herramientas para el cambio (Colección CERMI). España: Comité español de representantes
de personas con discapacidad. Recuperado de http://www.infodisclm.com/documentos/
discap_exclus_social_ue.pdf
Prensky, M. (2001). Digital Natives, Digital Immigrants Immigrants [Nativos Digitales, Inmigrantes
Digitales]. Recuperado de http://www.marcprensky.com/writing/Prensky - Digital Natives,
Digital Immigrants - Part1.pdf
Ramírez, E., Domínguez, A. B. y Clemente, M. (2007, enero-abril). Cómo valoran y usan las
tecnologías de la información y la comunicación (TIC) los profesores de alumnos con
necesidades educativas especiales (NEE). Revista de educación, 342, 349-372. Recuperado
de http://dialnet.unirioja.es/servlet/articulo?codigo=2254203
Royce. (2003). Jugando con las Matemáticas (v1.0) [CD_ROM]. México: Royce.
Sanches, I. (1995, mayo-junio). Professores de educação especial: Da formação às práticas educativas
[Profesores de educación especial: De la formación a las prácticas educativas]. O Professor,
, 44-52.
Semenov, A. (2006). Las tecnologías de la información y la comunicación en la enseñanza.
Manual para docentes o cómo crear nuevos entornos de aprendizaje abierto por medio
de las TIC. Organización de las Naciones Unidas, para la Educación, la Ciencia y la
Cultura. Montevideo, Uruguay: Ediciones Trilce. Recuperado de unesdoc.unesco.org/
images/0013/001390/139028s.pdf
Soriano, V. (2000). La educación integradora en Europa. Valencia: Artes Gráficas Soler.
Soto, F. (s. f.). Nuevas tecnologías y atención a la diversidad: Oportunidades y retos. Murcia:
Dirección general de Enseñanzas Escolares. Servicio de Atención a la Diversidad. Consejería
de Educación y Cultura. Recuperado de http://www.niee.ufrgs.br/eventos/CIIEE/2007/pdf/
CE- 143 Espana.pdf
Stora Sköndal. (s. f.). Lexia (v.3.0) [CD_ROM]. Suecia: Stora Sköndal.
The Learning Company (1990). Conejo Lector (v.1.0) [CD_ROM]. Estados Unidos: Nombre del
productor.
The Warnock Report (1978). Special educational needs. The History of Education in England
[Educación de Necesidades Especiales. La Historia de la Educación en Inglaterra].
Recuperado de http://www.dg.dial.pipex.com/documents/docs3/warnock.shtml
UNESCO. (2002). Information and Communication Technologies in Teacher Education. A Planning
Guide [Tecnologías de la información y comunicación en la formación del profesorado].
Recuperado de http://unesdoc.unesco.org/images/0012/001295/129533e.pdf
UNESCO. (2011). A Profile of Inclusive Teachers (Resumen) [El perfil inclusivo de los
profesores]. Recuperado de http://www.ibe.unesco.org/fileadmin/user_upload/COPs/News_
documents/2011/1103_Norway/Profile_of_Inclusive_Teachers_-_summary.pdf
Unlimited. (1995). El árbol mágico del pensamiento (v.1.0) [CD_ROM]. Chile: Unlimited.
Unlimited. (1998). Abrapalabra (v.1.0) [CD_ROM]. Chile: Unlimited.
Vázquez C. M. y Fernández, M. E. (2003). El proyecto de la Agencia Europea sobre la aplicación
de las tecnologías de la comunicación e información a la educación del alumnado con
necesidades educativas especiales. En F. J. Soto y J. Rodríguez (Coords.). Las nuevas
tecnologías en la respuesta educativa a la diversidad (pp. 163-168). España, Murcia: Servicio
de ordenación administrativa y publicaciones. Recuperado de http://www.doredin.mec.es/
documentos/018200220032.pdf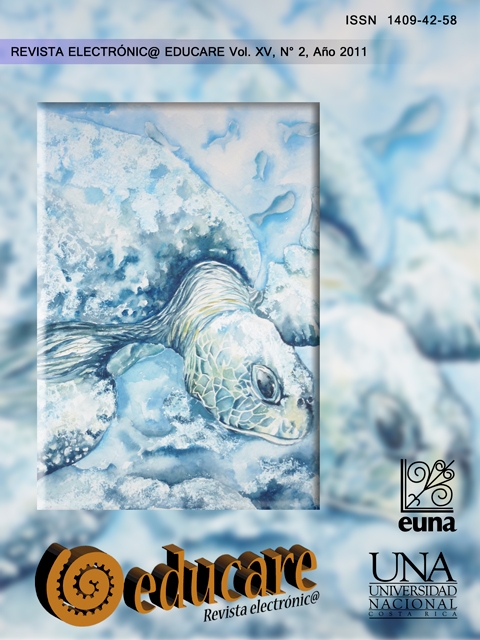 How to Cite
Aburto Godoy, R. (2011). Perception on the Use of ICTs in the Teaching Practices of Special Education Teachers. Revista Electrónica Educare, 15(2), 163-184. https://doi.org/10.15359/ree.15-2.11
Section
Articles (Peer Reviewed Section)
1. In case the submitted paper is accepted for publication, the author(s) FREELY, COSTLESS, EXCLUSIVELY AND FOR AN INDEFINITE TERM transfer copyrights and patrimonial rights to Universidad Nacional (UNA, Costa Rica). For more details check the Originality Statement and Copyright Transfer Agreement
2. REUTILIZATION RIGHTS: UNA authorizes authors to use, for any purpose (among them selfarchiving or autoarchiving) and to publish in the Internet in any electronic site, the paper´'s final version, both approved and published (post print), as long as it is done with a non commercial purpose, does not generate derivates without previous consentment and recognizes both publisher's name and authorship.
3. The submission and possible publication of the paper in the Educare Electronic Journal is ruled by the Journal's editorial policies, the institutional rules of Universidad Nacional and the laws of the Republic of Costa Rica. Additionally, any possible difference of opinion or future dispute shall be settled in accordance with the mechanisms of Alternative Dispute Resolution and the Costa Rican Jurisdiction.
4. In all cases, it is understood that the opinions issued are those of the authors and do not necessarily reflect the position and opinion of Educare, CIDE or Universidad Nacional, Costa Rica.
5. The papers published by Educare Electronic Journal use a Creative Commons License: