Degrowth Theory and the Language Teaching-Learning Process
Luis Guillermo Barrantes-Montero

Universidad Nacional, Costa Rica
Keywords:
Degrowth theory, development, economics, applied linguistics, English teaching.
Abstract
This paper aims to show how the consecutive crises faced by those societies ruled by a market economy pervade all areas of generation and transfer of knowledge. Such crises also demand serious redefinitions from societies in both their epistemological assumptions and their substantive actions. More precisely, the processes of language teaching and learning are viewed in the light of the Degrowth Theory, as an alternative approach to the trends of using the teaching of languages as a means of legitimizing the production-consumption vortex that threatens the global future.


References
Alpi, S. V., Sierra y Quiceno, J. M. (julio-diciembre, 2006). Salud y enfermedad desde el modelo mágico al bio-psico-social de la psicología de la salud. El Ágora USB, 6(2), 165-174. Recuperado de http://web.usbmed.edu.co/usbmed/elagora/docs/agora10/Agora%20Diez%20(Tema%201%20Salud%20y%20Enfermedad%20desde%20el%20modelo%20magico).pdf
Carmen, R. (2004). Desarrollo autónomo. Humanizar el paisaje: Una incursión en el pensamiento y la práctica radicales. Heredia, Costa Rica: EUNA.
Cook, G. (2003). Applied Linguistics [Lingüística aplicada]. Oxford: Oxford University Press. doi: http://dx.doi.org/10.1093/applin/24.2.249
Dale, R. y Robertson, S. (2004). Interview with Boaventura de Sousa Santos. [Entrevista con Boaventura De Sousa Santos]. Globalisation, Societies and Education, 2(2), 147-160. doi: http://dx.doi.org/10.1080/14767720410001733629
George, S. (2000). Informe Lugano. Barcelona: Icaria editorial.
Gómez, J. y Saxe, E. (marzo, 2010). El Banco Mundial y la educación superior comercializada. La universidad pública comercializada: Caso de la Universidad Nacional de Costa Rica (UNA). Ponencia presentada en el Congreso Internacional de Educación Superior. Universidad Nacional, Facultad de Filosofía y Letras. Recuperado de http://www.una.ac.cr/bibliografia_/components/com_booklibrary/ebooks/CB_CIESUP_07.pdf
Latouche, S. (2003). Decrecimiento y post desarrollo. El pensamiento creativo contra la crisis del absurdo. Madrid: El viejo Topo.
Narváez, A. (julio-diciembre, 2010). Educación, capitalismo y desarrollo. Cultura alfabética y globalización anglosajona. Signo y Pensamiento, 29(57), 248-267. Recuperado de http://www.redalyc.org/pdf/860/86020052016.pdf
Phillipson, R. (2003). Linguistic Imperialism [Imperialismo lingüístico]. Oxford: Oxford University Press.
Santos, B. (julio-septiembre, 2011). Epistemologías del Sur. Utopía y Praxis Latinoamericana, 16(54), 17-39. Recuperado de http://dialnet.unirioja.es/servlet/articulo?codigo=4231309
Saxe, E. E. (2006). Colapso mundial y guerra (2ª ed.). San José, Costa Rica: Amo al Sur Editorial. Recuperado de http://es.scribd.com/doc/145244805/33135782-Eduardo-E-Saxe-Fernandez-Colapso-Mundial-y-Guerra
Taibo, C. (2009). En defensa del decrecimiento. Sobre el capitalismo, crisis y barbarie. Madrid: Los libros de la Catarata.
Tettay, J. C. (3 de diciembre de 2012). El coltán. C. el Colombiano. Recuperado de http://www.elcolombiano.com/BancoConocimiento/E/el_coltan/el_coltan.asp
Tudor, I. (2000). The Dynamics of the Language Classroom [La dinámica de la clase de lenguas]. Cambridge: Cambridge University Press.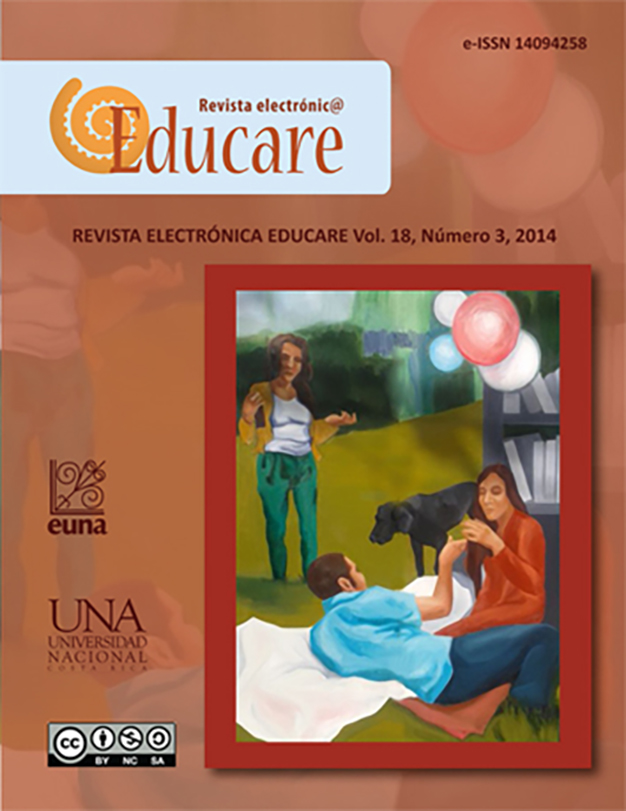 How to Cite
Barrantes-Montero, L. (2014). Degrowth Theory and the Language Teaching-Learning Process. Revista Electrónica Educare, 18(3), 251-261. https://doi.org/10.15359/ree.18-3.15
Section
Essays (Peer Reviewed Section)
1. In case the submitted paper is accepted for publication, the author(s) FREELY, COSTLESS, EXCLUSIVELY AND FOR AN INDEFINITE TERM transfer copyrights and patrimonial rights to Universidad Nacional (UNA, Costa Rica). For more details check the Originality Statement and Copyright Transfer Agreement
2. REUTILIZATION RIGHTS: UNA authorizes authors to use, for any purpose (among them selfarchiving or autoarchiving) and to publish in the Internet in any electronic site, the paper´'s final version, both approved and published (post print), as long as it is done with a non commercial purpose, does not generate derivates without previous consentment and recognizes both publisher's name and authorship.
3. The submission and possible publication of the paper in the Educare Electronic Journal is ruled by the Journal's editorial policies, the institutional rules of Universidad Nacional and the laws of the Republic of Costa Rica. Additionally, any possible difference of opinion or future dispute shall be settled in accordance with the mechanisms of Alternative Dispute Resolution and the Costa Rican Jurisdiction.
4. In all cases, it is understood that the opinions issued are those of the authors and do not necessarily reflect the position and opinion of Educare, CIDE or Universidad Nacional, Costa Rica. It is also understood that, in the exercise of academic freedom, the authors have carried out a rogorous scientific-academic process of research, reflection and argumentation thar lays within the thematic scope of interest of the Journal.
5. The papers published by Educare Electronic Journal use a Creative Commons License:
Most read articles by the same author(s)