MERCANTILIZACIÓN DE LA BIODIVERSIDAD: la actividad de bioprospección del INBio en Costa Rica
Isaac Rojas Ramírez

Coecoceiba-Amigos de la Tierra Costa Rica, Costa Rica
Abstract
Resumen
El presente artículo hace un análisis de la actividad de bioprospección realizada por la institución privada denominada Instituto Nacional de Biodiversidad (INBio) en Costa Rica: su nacimiento, actividades y situación actual. Este análisis hace énfasis en cómo percibimos que este negocio de la bioprospección ha sido realizado sin mayor control público pese a que la riqueza genética del país, ha sido el objeto de los contratos pactados entre el INBio y empresas transnacionales, avalados todos por los ministros de ambiente de turno. La percepción e impactos en un Pueblo Indígena es parte del análisis y de igual forma, analizamos la bioprospección en forma general y cómo el marco jurídico actual se convierte en un elemento más en la cosificación de la biodiversidad.
Abstract
This article makes an analysis of the bioprospecting activity done by the private institution call National Institute on Biodiversity (INBio) in Costa Rica: beginning, activities and current situation. This analysis is focus in how we perceive this business of the bioprospecting made with no public controls despite that the genetic resources were the object of the contracts between INBio and the transnationals companies. All these contracts have the support of all the environment ministries of the diferents governments. The perception and impacts in an Indigenous People is part of the analysis and also, we analize in a general way, the bioprospecting and how the legal framework is another element that helps in the cosification of biodiversity.
Downloads
Download data is not yet available.
References
Bravo, Elizabeth; (2003) El ALCA y la soberanía alimentaria. Mimeografiado.

Campbell, Lisa M.; (2002) Conservation Narrative in Costa Rica: Conflict and Coexistence. en Development and Change Vol. 33.

Dalton, Rex; Costa Rica's flagship conservation institute needs help. Can a new deal with industry save it? Rex Dalton investigates,en Nature del 1 de junio del 2006.

Delgado, Isabel (2004); Biopiratería en América Latina. Casos célebres de apropiación ilegal de nuestros conocimientos colectivos, 15 de junio, en Biodiversidad América Latina, www.biodiversidadla.org

Michael Williams; (2002) First-ever global guidelines adopted on genetic resources, The Hague/Nairobi, 19 April

Ponchner, Debbie; Expedición de muestreo de océanos, Craig Venter busca secuenciar los mares; La Nación, 10 de junio del 2007

Ribeiro, Silvia (2002); Medicina tradicional, patentes y biopiratería, 3 de agosto en La Jornada de México.

Rodríguez, Silvia; (1993) "Conservación y contradicción y erosión de la soberanía: el Estado costarricense y las áreas naturales protegidas", Tesis de doctorado, Estudios de desarrollo de la Universidad de Wisconsin, Madison.

Rodríguez, Silvia; (1995) "Los determinismos mercantil y tecnocrático en el modelo de funcionamiento del INBio", Escuela de Ciencias Ambientales, 28 de junio.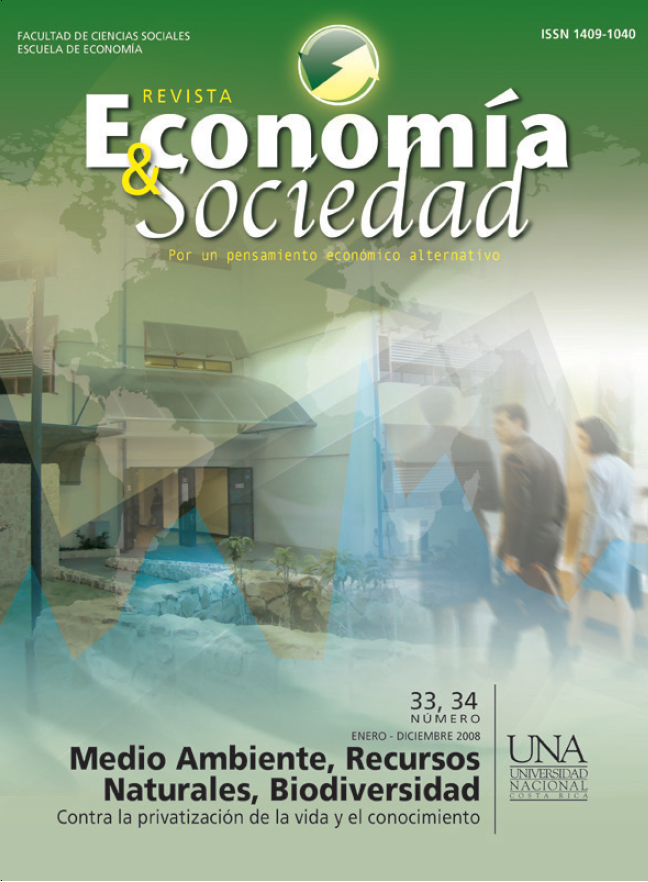 How to Cite
Rojas Ramírez, I. (2008). MERCANTILIZACIÓN DE LA BIODIVERSIDAD: la actividad de bioprospección del INBio en Costa Rica. Economía Y Sociedad, 13(33-34), 21-38. Retrieved from https://www.revistas.una.ac.cr/index.php/economia/article/view/66
Section
Articles (Arbitrated section)
This publication is subject to the Creative Commons License; therefore, its attributions and restrictions must be respected.
Authors publishing in this Journal accept the following conditions:
Authors retain copyright ownership and give the Journal first publication right of the paper, which is registered with the Creative Commons Attribution-NonCommercial-ShareAlike 4.0 International License. This license allows third parties to use the published work provided it is sourced as firstly published in this Journal.
Authors may enter into other independent and additional contractual agreements for the non-exclusive distribution of the article published in this Journal (e.g., to be included in an institutional repository or published in a book) provided it is clearly stated that the work was published in this Journal for the first time.
Authors are allowed and recommended to publish their work on the Internet (for example, on institutional or personal pages) before and during the review and publication process, as it can lead to productive exchanges and a greater and faster dissemination of work published.
The Economía & Sociedad Journal, published by Universidad Nacional, is licensed under a Creative Commons Reconocimiento-NoComercial-CompartirIgual 4.0 Internacional License. Based on http://www.revistas.una.ac.cr/index.php/economia.