ARTICLE RETRACTED: Elementos para una práctica renovada de la educación para la sexualidad: homosexualidad y heterosexualidad, homofilia y heterofilia, eros
Rodrigo Vargas Ruiz

Universidad Nacional, Costa Rica
Abstract
Diversity is a fundamental idea present in educational processes. Therefore, sexual diversity is a topic that must be discussed in the school setting. This is why the author explores the concept of homophobia as an expression the violence a rejection against other individuals. On the other hand, homophilia is regarded as the capacity to love individuals from the same sex, and heterophylly as the capacity to love and feel desire for individuals from the opposite sex. Understanding such terms helps experience eroticism as an intimate and collective expression in a society where all humans will be accepted.
References
Butler, J. (1993). "Imitación e insubordinación de género". En H. Abelove. M: A. Barale, D.M. Halperin Eds. The Lesbian and Gay Studies Reader, Nueva York y Londres: Routledge, pp. 307-320.
Conell, R.W. (1987). Género y poder: sociedad, persona y política sexual. Cambridge: Polty Press.
Conell, R.W. (1995). Masculinidades. Berkeley y Los Ángeles: Universidad de California.
Deveraux, G. (1983). De la ansiedad al método en las ciencias del comportamiento. -2da. Ed.-México D.F.: Siglo Veintiuno.
Freud, S. (1962). Tres ensayos sobre la teoría de la sexualidad. New York: Basics Books.
Foucault, M. (1988). Historia de la sexualidad. La voluntad de saber. Vol.1. México, D.F.: Siglo Veintiuno.
Hallway, W. (1989). Subjectivity and Method in Psychology: Gender,
Meaning and Science. London: Sage.
Henriques, J. (1984). Changing the Subject: Psychology, Social Regulation and Subjectivity. London and New York: Random House.
Irigaray, L. (1994 ). Pensando la diferencia. Para una revolución pacífica. Nueva York: Routledge.
Jefferson, T. (1994). "Theorising Masculine Subjectivity". En Newbum T. And E. Stanko Eds., Just Boys Doing Business? Men, Masculinities and Crime. London and New York: Routledge, pp. 10-31.
Lorde, A. (1993). "Los usos de lo erótico: lo erótico como poder". En H. Abelove, M. A. Barale, D.M. Halperin Eds. The Lesbian and Gay Studies Reader, Nueva York y Londres: Routledge, pp. 339-43.
Parin, P. (1986). The Mark of Oppression: Jews and Homosexuals as
Strangers. Frankfurt and Main: Sindikat.
Rich, A. (1993). "Compulsory Heterosexuality and Lesbian Existence".
En H. Abelove, M. A. Barale, D.M. Halperin Eds. The Lesbian and Gay Studies Reader, Nueva York y Londres: Routledge, pp. 227-54.
Schifter, J. (1998). Manual antihomofóbico. San José: Editorial ILPES.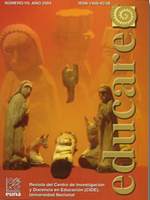 How to Cite
Vargas Ruiz, R. (2004). ARTICLE RETRACTED: Elementos para una práctica renovada de la educación para la sexualidad: homosexualidad y heterosexualidad, homofilia y heterofilia, eros. Revista Electrónica Educare, (7), 75-88. Retrieved from https://www.revistas.una.ac.cr/index.php/EDUCARE/article/view/1119
Section
Articles (Peer Reviewed Section)
1. In case the submitted paper is accepted for publication, the author(s) FREELY, COSTLESS, EXCLUSIVELY AND FOR AN INDEFINITE TERM transfer copyrights and patrimonial rights to Universidad Nacional (UNA, Costa Rica). For more details check the Originality Statement and Copyright Transfer Agreement
2. REUTILIZATION RIGHTS: UNA authorizes authors to use, for any purpose (among them selfarchiving or autoarchiving) and to publish in the Internet in any electronic site, the paper´'s final version, both approved and published (post print), as long as it is done with a non commercial purpose, does not generate derivates without previous consentment and recognizes both publisher's name and authorship.
3. The submission and possible publication of the paper in the Educare Electronic Journal is ruled by the Journal's editorial policies, the institutional rules of Universidad Nacional and the laws of the Republic of Costa Rica. Additionally, any possible difference of opinion or future dispute shall be settled in accordance with the mechanisms of Alternative Dispute Resolution and the Costa Rican Jurisdiction.
4. In all cases, it is understood that the opinions issued are those of the authors and do not necessarily reflect the position and opinion of Educare, CIDE or Universidad Nacional, Costa Rica.
5. The papers published by Educare Electronic Journal use a Creative Commons License:
Most read articles by the same author(s)