LA CRISIS FINANCIERA: ¿ESTAFA, MALA GESTIÓN EMPRESARIAL, MAL MANEJO MACROECONÓMICO O UNA FALTA DE REGULACIONES? DE NUEVO LAS ENSEÑANZAS
Julio César Espinosa Rodríguez

Escuela de Economía, Universidad Nacional, Heredia
Palabras clave:
Crisis financiera, regulaciones, mercados OTC
Resumen
Resumen
La intensificación de la crisis a nivel global, luego de la bancarrota de Lehman Brothers en septiembre del 2008, ha provocado que el actual entorno económico y financiero sea complicado para la economía mundial, el sector financiero a nivel global y para los bancos centrales.
La actual crisis deriva de muchas causas; no obstante las principales son tres: primero, aspectos macroeconómicos; segundo, la inadecuada regulación de los entes encargados, y tercero, los reguladores estimularon el rápido crecimiento de los derivados en el mercado OTC.
Abstract
The amplification of the global financial crisis, following the bankruptcy of Lehman Brothers in September 2008, has made the present economic and financial environment a not easy time for the world economy, the global financial system and for central banks.
There are many causes from the recent financial crisis. Main could be three. First, there were macroeconomic components. Second, the inadequate oversight/regulation provided by financial market regulators. And third, federal regulators have actively encouraged the rapid growth of over-the-counter (OTC) derivatives and securities by all types of financial institutions.
Descargas
La descarga de datos todavía no está disponible.
Citas
Arner, D. (2009). The Global Credit Crisis of 2008: Causes and Consequences. Asian
Institute of International Financial Law.

Barro, R. (2006). Rare Disasters and Asset Markets in the Twentieth Century. Quarterly
Journal of Economic, 121, August, 823-866.

________ (2009). Rare Disasters. Asset Prices and Welfare Costs. American Economic Review 99, (1), 243-264.

Basel Committee on Banking Supervision (2006). International Convergence of Capital Measurement and Capital Standards: a Revised Framework–Comprehensive Version (Bank for Int'l Settle-ments) ("Basel II"),

Benston, G. (1990). The separation of Commercial and Investment Banking: The Glass-Steagall Act Revisited and Reconsidered. Oxford University Press, New York.

Blanco, M. (2004). El sector bancario en los Estados Unidos. Características estructurales, Anuario Jurídico y Económico. Escurialense, XXXVII (2004) 449-477 / ISSN: 1133-3677

Criado S. y Van Rixtel A. (2008). La financiación estructurada y las turbulencias financieras de 2007-2008: Introducción general. Banco de España, Documentos Ocasionales, N.º 0808.

Fabozzi, F., y Kothari, V. (2007). Securitization: The tool of financial transformation. Yale International Center for Finance Working Paper n.º 07-07.

Fabozzi, F., Davis H. y Choudhry M. (2006). Introduction to Structured Finance, Hoboken. New Jersey: John Wiley & Sons, Inc.

Gabaix, X. (2008). Variable Rare Disasters: An Exactly Solved Framework for Ten Puzzles in Macro-Finance. NBER Working Paper No. 13724, National Bureau of Economic Research. Cambridge, MA

Galbraith, J. (2004). La economía del fraude inocente.La verdad de nuestro tiempo.
Editorial Crítica, Barcelona.

Green , R. & Schnare, A. (2009). The Rise and Fall of Fannie Mae and Freddie Mac: Lessons Learned and Options for Reform, Paper, Washington DC, November.

Greenspan, A. (2010). The Crisis. April.Gorton, G. (2008). The panic of 2007. Working Paper 14358, National Bureau of Economic Research, September

Ibragimov, R., & Johan W. (2006). The Limits of Diversification when Losses May Be Large. Discussion Paper No. 2104, Harvard Institute of Economic Research. Harvard Univesity. Cambridge, MA

IOSCO (1998). Objetivos y principios para la regulación de los mercados de valores.Organización Internacional de Comisiones de Valores, Septiembre

Kroszner, R., & Rajan, R. (1992). Some evidence on the separation of commercial and investment banking, Credit Markets in Transition. The 28 th. Annual Conference on Bank Structure and Competition Federal Reserve Bank of Chicago.

Krugman, P. (1994). Vendiendo prosperidad. Sensatez e insensatez económica en una era de expectativas limitadas. Ariel, Argentina.

________ (2008). Después de Bush. El fin de los "neocons" y la hora de los demócratasEditorial Crítica, Barcelona.

________ (2009). El retorno de la economía de la depresión y la crisis actual. Editorial Crítica, Barcelona

Losada, R. (2009). Agencias de rating: hacia una nueva regulación. Comisión Nacional del Mercado de Valores, España.

Mason, J. y Rosner, J. (2007). Where Did Risk Go? How Misapplied Bond Ratings Cause Mortgage Backed Securities and Collateralized Debt Obligation Market Disruptions. May.Mengle, D. (2007). Credit derivatives: An overview. Federal Reserve Bank of Atlanta, Economic Review, Fourth Quarter

Morgan, S. (2008).Credit derivatives insights: Handbook of single name and index strategies. 4ª edición.

Pazos, J. (2009). Los estructurados y la crisis. Economía Exterior, Núm. 48, Primavera

Pelouze, F. (2009). Fannie Mae and Freddie Mac and the 2008 Financial Crisis. Paper, Columbia Law School, April.

Pereyra, T. (2008). Crisis global sí: pero asimétrica. Entender la crisis para tomar medidas a su favor. Documento de Trabajo Nº 43, Facultad de Administración y Ciencias Sociales, Universidad ORT Uruguay, Marzo.

Pinto, E. (2008). Statement before the Committee on Oversight and Government Reform. US House of Representatives, December.

Roldan, J. (2007). El papel del modelo de "originar para distribuir" en la crisis financiera. Banco de España.

Rubini, H. (2010). Crisis subprime: ¿hacia una "nueva" teoría macroeconómica?, Instituto Provincial de Estadistica y Censos, Santa Fe, Argentina.

Sjostrom, W. (2009). The AIG Bailout, 66 Wash. & Lee L. Rev. 943.Smith, Roy C. e Ingo W. (1992). Reconfiguration of Global Financial Markets in the 1990s. Recent Developments in Finance, ed. Anthony Saunders, Homewood,
Illinois: Business One Irwin.

________ (1997). Global Banking, Oxford U.K. Oxford University Press.

Soto, R. (2010). Especulación e innovación financiera. Mercado de derivados y consecuencias macroeconómicas en México. Miguel Ángel Porrúa.

Stitglitz, J. (2003). Los felices 90. Editorial Tauro.

Taleb, N. (2007). The Black Swan: The Impact of the Highly Improbable. Random House, Inc.New York.

Taylor, J. (2009). Getting Off Track: How Government Actions and Interventions Caused, Prolonged, and Worsened the Financial Crisis. Hoover Institution Press.

Vasudev, P. (2009). Default Swaps and Director Oversight: Lessons from AIG. Paper selected for the Conference on "Risk Management and Corporate Governance"October 1–2, Center for Integrated Risk Management and Corporate Governance, Loyola University Chicago

White, L. (2005).On Truly Privatizing Fannie Mae and Freddie Mac: Why It's Important, and How to Do It. Presented at the Conference on "Fixing the Housing Finance System" Wharton School, University of Pennsylvania April 26-27

Wickens, M. (2008). Macroeconomic Theory: A Dynamic General Equilibrium Approach. Princeton University Press.

Wilmarth, A. (2009). The Dark Side of Universal Banking: Financial Conglomerates and the Origins of the Subprime Financial Crisis. The George Washington University Law School Public Law and Legal Theory, Working
Paper no. 468 Legal Studies Research Paper no. 468, May

Xu, X.; Supanvanij, J., y Yeager , F., (2000), Evolution of the U.S. Banking System: From Glass-Steagall to Universal Banking. The Journal of International Banking Regulation, January.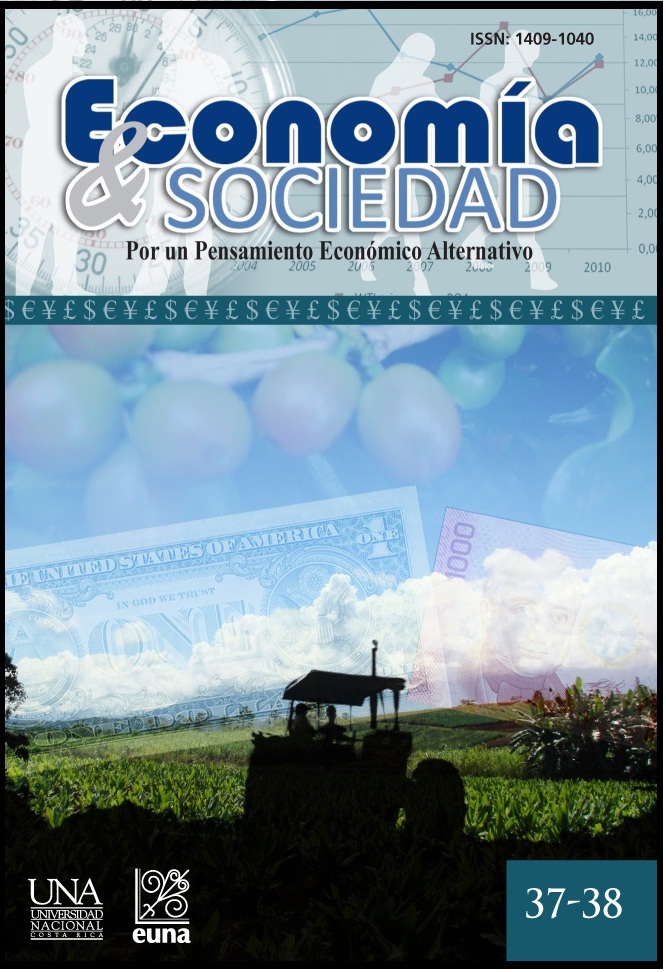 Cómo citar
Espinosa Rodríguez, J. C. (2011). LA CRISIS FINANCIERA: ¿ESTAFA, MALA GESTIÓN EMPRESARIAL, MAL MANEJO MACROECONÓMICO O UNA FALTA DE REGULACIONES? DE NUEVO LAS ENSEÑANZAS. Economía Y Sociedad, 15(37-38), 23-54. Recuperado a partir de https://www.revistas.una.ac.cr/index.php/economia/article/view/3768
Sección
Artículos (Sección arbitrada)
Esta publicación está adscrita a Creative Commons; deben respetarse sus atribuciones y restricciones.
Los autores/as que publiquen en esta revista aceptan las siguientes condiciones:
Los autores/as conservan los derechos de autor y ceden a la revista el derecho de la primera publicación, con el trabajo registrado con la Licencia Creative Commons Atribución-NoComercial-CompartirIgual 4.0 Internacional, que permite a terceros utilizar lo publicado siempre que mencionen la autoría del trabajo y a la primera publicación en esta revista.
Los autores/as pueden realizar otros acuerdos contractuales independientes y adicionales para la distribución no exclusiva de la versión del artículo publicado en esta revista (p. ej., incluirlo en un repositorio institucional o publicarlo en un libro) siempre que indiquen claramente que el trabajo se publicó por primera vez en esta revista.
Se permite y recomienda a los autores/as a publicar su trabajo en Internet (por ejemplo en páginas institucionales o personales) antes y durante el proceso de revisión y publicación, ya que puede conducir a intercambios productivos y a una mayor y más rápida difusión del trabajo publicado.
Revista Economía y Sociedad by Universidad Nacional is licensed under a Creative Commons Reconocimiento-NoComercial-CompartirIgual 4.0 Internacional License.
Creado a partir de la obra en http://www.revistas.una.ac.cr/index.php/economia