Hypertension in the National University of Distance Education's personnel
Lourdes Arce Espinoza

UNED, Costa Rica

Julián Monge-Nájera

Universidad Estatal a Distancia, Costa Rica
Keywords:
Hypertension, outpatient service, distance education, university personnel, Costa Rica
Abstract
The prevalence of Arterial Hypertension (AHT) has increased worldwide and preventive measures areinsufficient since only one third of the population is being treated. AHT is the primary cause of morbidity andmortality in the world. In this article is presented the first study on hypertension levels of personnel of aDistance Education university based on the analysis of all medical consultations in the Costa Rican StateUniversity for Distance Education (Universidad Estatal a Distancia-UNED) as of December 15, 2007 (1,526medical files). The population studied ranges from 20 to 70 years of age and is comprised of residents of theGreater Metropolitan Area (Costa Rica) with varied socioeconomic and academic levels. The StatgraphicsCenturion XV software and the chi-square test were used to analyze variables such as treatment administered,sex, age, and type of work. Only 45 patients knew that they suffered from hypertension prior to theirconsultation with the university medical service and 136 were treated with Enalapril and Hydrochlorothiazide.The number of hypertensive patients is higher among those who have worked at the institution for more than 20years, especially in those holding higher positions. No marked differences were found between men andwomen. It is concluded that the existence of a university medical service has permitted faculty and staff tosatisfactorily control their blood pressure.
References
Barton, A. J., Gilbert, L., Baramme, J., & Granger, T. (2006). Cardiovascular Risk in
Hispanic and non Hispanic Preschoolers. Nursing Research, 55, 172­179.
Borges, L. M., Peres, M. A., & Horta, B. L. (2007). Prevalence of High Blood Pressure among School Children in Cuiabá, Midwestern Brazil. Revista de Saúde Pública, 41, 530­538.
Gao, X., Nelson, M., & Tucker, K. (2007). Television Viewing is Associated with Prevalence of Metabolic Syndrome in Hispanic Elders. Diabetes Care, 30, 694­700.
Goldstein, I. B., Shapiro, D., & Guthrie, D. (2006). Ambulatory Blood Pressure and Family History of Hypertension in Healthy Men and Women. American Journal of Hypertension, 19, 486­491.
Grimm, R. H., Grandits, G., & Svendsen, K. (1996). Sexual Problems and Antihypertensive Drugs Treatment: Results of the Treatment of Mild Hypertension Study (TOMHS). Journal of Urology, 155, 634­644.
Haijar, I. K., & Kotchen, Ta. (2006). Hypertension: Trends in Prevalence, Incidence and
Control. Annual Review of Public Health, 27, 465­490.
Han, H. R., Kim, K. B., Kang, J. J., Kim, E. Y., & Kim, M. T. (2007). Knowledge, Beliefs and Behaviors about Hypertension Control among Middle­Aged Korean Americans with Hypertension. Journal of Community Health, 32, 324­342.
Hayes, D. K., Denny, C. H., Keenan, N. L., Croft, J. B., Sundaram, A. A., & Greenlund, K.
J. (2003). Racial/Ethnic and Socioeconomic Differences in Multiple Risk Factors for Heart Disease and Stroke in Women: Behavioral Risk Factor Surveillance System. Journal of Women Health, 15, 1000­1008.
Higginbottom, G. M. (2006). Pressure of Life: Ethnicity as Mediating Factor in Mild­Life and Older People, Experience of High Blood Pressure. Sociology of Health and Illness, 28, 583­610.
Holguin, L., Correa, D., Arrivillaga, M., Cáceres, D., & Varela, M. (2006). Treatment Compliance in Arterial Hypertension: Efficacy a Biopsychosocial Intervention Program. Universitas Psychologica, 5, 535­548.
Holmes, J. S., Arispe, I. E., & Moy, E. (2005). Heart Disease and Prevention: Race and Age Differences in Heart Disease Prevention, Treatment and Mortality. Medical Care, 43, 33­41.
Huerta, R. B. (2001). Factores de riesgo para la hipertensión arterial. Archivos de Cardiología de México, 7, 208­210.
Huerta, D., Bautista, L., Irigoyen, A. y Arrieta, R. (2005). Estructura familiar y factores de riesgo cardiovascular en pacientes con Hipertensión Arterial. Archivos de Medicina Familiar, 7, 87­92.
Hulanicka, B., Lipowicz, A., Koziel, S., & Kowalisko, A. (2007). Relationship between Early Puberty and the Risk of Hypertension, Overweight at Age 50: Evidence for a Modified Barker Hypothesis among Polish Youth. Economics and Human Biology, 5, 48­60.
Jhalani, J., Goyal, T., Clemow, L., Schwartz, J. E., Pickering, T. G., & Gerin, W. (2005). Anxiety and Outcome Expectations Predict the White Coat Effect. Blood Pressure Monitoring, 10, 317­319.
Jarvis, C., Hayman, L. L., Braun, L., Schwertz, D., Ferrans, C., & Piano, M. (2007). Cardiovascular Risk Factors and Metabolic Syndrome in Alcohol and Nicotine­ Dependent Men and Women. Journal of Cardiovascular Nursing, 22, 429­435.
Katzmarzyk, P. T., Rankinen, T., Perusse, L., Rao, D. D. C., & Bouchard, C. (2001). Familial Risk of High Blood Pressure in the Canadian Population. American Journal of Human Biology, 13, 620­625.
Lawlor, D, A., O'Callaghan, M. J., Mamun, A. A., Williams, G. M., Bor, W., & Najman, J.
M. (2005). Socioeconomic Position Cognitive Function and Clustering of Cardiovascular Risk Factors in Adolescence: Findings from the Mater University Study of Pregnancy and its Outcomes. Psychosomatic Medicine, 67, 862­868.
Li, W., Liu, L. S., Puente, J. G., Li, Y. S., Jiang, X. J., Jin, S. G., Ma, H., Kong, L. Z., Ma, L.
M., He, X. Y., Ma, S. X., & Chen, C. M. (2005). Hypertension and Health ­Related Quality of Life: An Epidemiological Study in Patients Attending Hospital Clinics in China. Journal of Hypertension, 23, 1667­1676.
Méndez, Ch. E. y Rosero­Bixby, L. (2007). Prevalencia de hipertensión en adultos mayores de Costa Rica. Población y Salud de Mesoamérica, 5, 1­9.
Molina, D. R. (2007). Manual de hipertensión arterial en la práctica clínica de atención primaria: factores que influyen en su prevalencia. Revista de la Sociedad Andaluza de Medicina Familiar, 14, 1­4.
Olmos, O., Coromina, E., Morales, M., Torres, P., Coviello, A. y Grosse, A. (1999). El examen oral como prueba de estrés en una población de estudiantes y su incidencia sobre la presión arterial. Revista de la Federación de Argentina de Cardiología, 28, 87­90.
Plans, P., Tesserras, R., Pardell. H. y Salleras, L. (2002). Epidemiología de la hipertensión arterial en la población adulta de Cataluña, España. Revista Médica Clínica, 98, 369­372.
Rose, K. M., Newman, B., Bennet, T., & Tyroler, H. A. (1999). The Association between Extent of Employment and Hypertension among Women Participants of the Second National Health and Nutrition Survey. Women and Health, 29, 13­29.
Rubio, C., Vallejo, D. y Martínez, F. (2000). Cardiología y Medicina del Trabajo: un enfoque sobre factores condicionantes en el desarrollo de ciertas cardiopatías. Revista Medicina del Trabajo, 1, 75­82.
Vásquez, A., Fernández, M., Álvarez, N., Roselló, Y. y Pérez, M. (2006). Percepción de la hipertensión como factor de riesgo, Aporte del día mundial de lucha contra la hipertensión. Revista Cubana Médica, 45, 1­10.
Wilson, R. P., Freeman, A., Kazda, M. J., Andrews, T. C., Berry, L., Vaeth, P. A., & Victor, R.
G. (2002). Lay Beliefs about High Blood Pressure in a Low to Middle Income Urban African­American Community: An Opportunity for Improving Hypertension Control. American Journal of Medicine, 112, 26­30.
Xiang, G., Nelson, M. E., & Tucker, K. L. (2007). Television Viewing is Associated with
Prevalence of Metabolic Syndrome in Hispanic Elders. Diabetes Care, 30, 694­700.
Yang, H., Schnall, P., Jáuregui, M., Su, T. y Baker, D. (2006). Exceso de trabajo e hipertensión arterial. Revista Hipertensión, 48, 1­7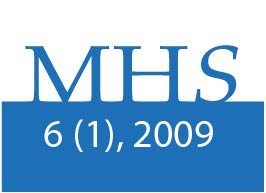 How to Cite
Arce Espinoza, L., & Monge-Nájera, J. (2009). Hypertension in the National University of Distance Education's personnel. MHSalud: Revista En Ciencias Del Movimiento Humano Y Salud, 6(1). https://doi.org/10.15359/mhs.6-1.1
Section
Scientific Articles
Self-archiving policy: The journal allows the self-archiving of the articles in their peer-reviewed version, edited and approved by the Editorial Board of the Journal to be available in Open Access through the Internet. More information in the following link: https://v2.sherpa.ac.uk/id/publication/25815https://v2.sherpa.ac.uk/id/publication/25815
General conditions
The journal is hosted in open access repositories such as the Institutional Repository of the Universidad Nacional, the Kimuk Repository of Costa Rica and La Referencia.
The editorial source must be recognized.
MHSalud: Journal in Human Movement Sciences and Health by the Universidad Nacional is cover under a Creative Commons Atribución-NoComercial-SinDerivadas 3.0 Costa Rica license.
Most read articles by the same author(s)