THE FORMATION AND ACQUISITION OF KNOWLEDGE OF THE ELITE SOCCER COACHES OF COSTA RICA TO TRAIN AND COACH
Keywords:
formation, knowledge, coaches, soccer
Abstract
This study aimed to explore the aspects related to the formation and sources of knowledge that Costa Rican elite soccer coaches have in order to coach and train, and how those aspects influence the decision-making process of soccer coaches' in their sport environment. For this purpose, a qualitative research project has been carried out, where data was collected through the method specifically known as methodological triangulation, which consisted in the application of two methodological tools, the interview and the questionnaire, whose final results were compared with each other. The study population consisted of 10 coaches of the Costa Rican First Division Soccer League. The results indicate that coaches base their work of coaching and training on almost all subcategories of acquisition of knowledge that were raised in the study. However, the subcategories of experience as a player, professional experience, and the use of technological tools were assigned a greater value, especially regarding the field of coaching in competition. At the same time, the subcategory interaction between colleagues was assigned the lowest value. The conclusions of the study should be analyzed when designing curricula in the training of soccer coaches.
References
Abraham, A., Collins, D & Martindale, R. (2006). The coaching schematic: Validation through expert coach consensus. Journal of Sports Sciences, 24(6), 549 – 564. DOI: 10.1080/02640410500189173
Barros, G. C., Ribeiro, I. M., Arroyo, M. P. M., Rosado, A. F. B., Sousa, T. M. T., & Pereira, P. F. S. (2010). Autopercepción de las competencias profesionales de los entrenadores de fútbol en función de la experiencia profesional y de la formación académica. Cuadernos de Psicología del Deporte, 10(1). Recuperado de http://revistas.um.es/cpd/article/view/110261/104901
Bisquerra, R. y Pérez-Escoda, N. (2015). ¿Pueden las escalas Likert aumentar en sensibilidad? REIRE Revista d'innovació i recerca en educació, 8 (2), 129-147. DOI: 10.1344/reire2015.8.2.828
Castillo, I., Ramis, Y., Cruz, J., y Balaguer, I. (2015). Formación de Entrenadores de Fútbol Base en el Proyecto PAPA. Revista de Psicología del Deporte. 24(1) ,131-138. Recuperado de http://web.a.ebscohost.com.una.idm.oclc.org/ehost/pdfviewer/pdfviewer?sid=0c7c1e47-e3b6-4859-a6a6-659ea8172b05%40sessionmgr4007&vid=1&hid=4207
Coté, J., Salmela, J. H., Trudel, P., Baria, A. y Russel, S. (1995). The coaching model: a grounded assessment of expert gymnastic coachesj knowledge. Journal of Sport & Exercise Psychology, 17, 1, 1-17. DOI: http://dx.doi.org/10.1123/jsep.17.1.1
Coté, J., Young, B., North, J. y Duffy, P. (2007). Towards a definition of excellence in sport coaching. International Journal of Coaching Science, 1, 3-17. Recuperado de https://www.researchgate.net/publication/43501231_Towards_a_Definition_of_Excellence_in_Sport_Coaching
Cushion, C.; Armour K. & Jones, R. (2003); Coach education and continuing professional development: experience and learning to coach. Quest, 55:3, 215-230, DOI. http://dx.doi.org/10.1080/00336297.2003.10491800
Erickson, K., Bruner, M., MacDonald, D. y Coté, J. (2008). Gaining Insight into Actual and Preferred Sources of Coaching Knowledge. International Journal of Sports Science & Coaching, 3, 4, 527-538. DOI: https://doi.org/10.1260/174795408787186468
Jiménez-Sáiz, J., Lorenzo-Calvo, A., Gómez-Ruano, M. y Lorenzo-Calvo, J. (2009). La adquisición del conocimiento en entrenadores expertos en baloncesto. Apunts educación física y deportes 2(96), 47-52. Recuperado de: http://abacus.universidadeuropea.es/bitstream/handle/11268/601/385.pdf?sequence=1&isAllowed=y
Lemyre, F.; Trudel, P. & Durand-Bush, N. (2007): How Youth-Sport Coaches earnen to coach. The Sport Psychologist, 21, 191-209. Recuperado de: http://scholars.unh.edu/inquiry_201
Nash, C., & Collins, D. (2006). Tacit Knowledge in expert coaching: Science or art? Quest, 58:4, 465-477, DOI. http://dx.doi.org/10.1080/00336297.2006.10491894
Okuda-Benavides, M. y Gómez-Restrepo, C. (2005). Métodos en investigación cualitativa: triangulación. Revista Colombiana de Psiquiatría. 24(1): 118-124 Recuperado de http://www.scielo.org.co/scielo.php?script=sci_arttext&pid=S0034-74502005000100008
Pérez, C. (2002). Caracterización del entrenador de alto rendimiento deportivo. Cuadernos de Psicología del Deporte. 2(1). Recuperado de http://www.rpd-online.com/article/view/18/18
Rosado, A., Palma, N., Mesquita, I., y Moreno, P. (2007). Percepción de los jugadores de fútbol, de distinto nivel, sobre sus entrenadores. Revista de Psicología del Deporte. 16(2) ,151-165. Recuperado de http://www.rpd-online.com/article/viewFile/18/18
Vallée, C. N. & Bloom, G. A. (2005). Building a successful university sport program: key and common elements of expert coaches. Journal of Applied Sport Psychology, 17, 3, 179- 196. DOI: 10.1080/10413200591010021
Vinicia, J., Mayorga, D., Ruiz, J., y Blanco, H. (2016). La comunicación educativa de entrenadores de fútbol en competición. Federación Española de Asociaciones de Docentes de Educación Física. (29) ,17-29. Recuperado de http://web.a.ebscohost.com.una.idm.oclc.org/ehost/pdfviewer/pdfviewer?sid=bf7be36c-e6bc-4690-a1a5-4b225b933b01%40sessionmgr4008&vid=1&hid=4207
Werthner, P. & Trudel P. (2006); A New Theoretical Perspective for Understanding How Coaches learning to coach. The Sport Psychologist, 20, 198-212. DOI: http://dx.doi.org/10.1123/tsp.20.2.198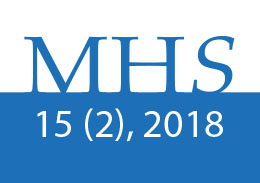 How to Cite
Rivas-Borbón, O. M., Víquez-Ulate, F., Revuelta-Sánchez, I., Salas- Cabrera, J., & Gutiérrez - Vargas, J. C. (2018). THE FORMATION AND ACQUISITION OF KNOWLEDGE OF THE ELITE SOCCER COACHES OF COSTA RICA TO TRAIN AND COACH. MHSalud: Revista En Ciencias Del Movimiento Humano Y Salud, 15(2), 1-14. https://doi.org/10.15359/mhs.15-2.1
Section
Scientific Articles
Most read articles by the same author(s)
Irina Anchía-Umaña, Ashley Elizondo-Monge, Steve Monge-Poltronieri, Inés Revuelta-Sánchez, Braulio Sánchez-Ureña, Juan Carlos Gutiérrez-Vargas, Preferences of Students of Free Courses on the Modalities of Fitness or Wellness According to Sex , Revista Electrónica Educare: Vol 23 No 3 (2019): Revista Electrónica Educare (September-December)
María Amalia Penabad-Camacho, Magally Márquez-Barquero, Lady Peña-Conejo, Inés Revuelta-Sánchez, Quality of life and education in time of pandemic, a reflection from the Human Movement Sciences , Revista Electrónica Educare: Vol 24 No Suplemento (2020): Revista Electrónica Educare (Special Supplement Covid-19)