Appropriate abdominal strength exercises: A tool for the prevention of lumbago
Keywords:
Abdominal muscles and valsalva
Abstract
The purpose of this article was to analyze the technique traditionally used in abdominal exercises in order to give alternatives that would guarantee a correct risk-free execution. In addition, some recommendations are provided that would help prescribe abdominal exercises for health purposes.
References
Alvarez, C. (1997). Manual de Fisiología del Ejercicio. UNA: Heredia, Costa Rica.
Craig, A., & McGill, S. (1997). Low back loads over a variety of abdominal exercises: searching for the safest abdominal challenge. Medicine and Science in Sports and Exercise, 12, 804-811.
Juker, D., McGill and Kropf, P. (1996). Quantitative intramuscular myoelectric activity of quadratus lumborum during a wide variety of tasks. Clinical Biomechanics, 11, 170-172. https://doi.org/10.1016/0268-0033(95)00056-9
Lamb, D. (1994). Physiology of Exercise. New York: MacMillan Publishing Company.
McGill, S. (1992). Myoelectrically based dynamic three-dimensional model to predict loads on lumbar spine tissues during lateral bending. Journal of Biomechanics, 25, 395-414. https://doi.org/10.1016/0021-9290(92)90259-4
Sallis, J., & Salens, B. (2000). Assessment of physical activity by self-report: status, limitations and future directions. RQSE, 71, 1-12. https://doi.org/10.1080/02701367.2000.11082780
Simons-Morton, B., Parcel, G. O'Hara, N., Blair, S., & Pate, R. (1988). Health-related physical fitness in childhood. Annual Review of Public Health, 9, 404-425. https://doi.org/10.1146/annurev.publhealth.9.1.403
Shepard, R. (1994). Physical activity and child health. Sport Medicine, 1, 205-233. https://doi.org/10.2165/00007256-198401030-00004
Trost, S., Pate, R., Dowda, M., Saunders, R., Ward, D., & Felton, G. (1996). Gender differences in physical activity and determinants of physical activity in rural fifth grade children. Journal of School Health, 66, 145-150. https://doi.org/10.1111/j.1746-1561.1996.tb06264.x
Van Gender, N., & Marks, S. (1987). Aerobic Dance-Exercise Instructor Manual. California: IDAF Publisher.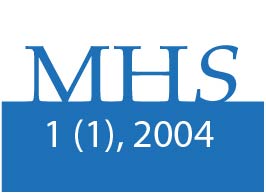 How to Cite
Alvarez Bogantes, C. (2004). Appropriate abdominal strength exercises: A tool for the prevention of lumbago. MHSalud: Revista En Ciencias Del Movimiento Humano Y Salud, 1(1). https://doi.org/10.15359/mhs.1-1.1
Section
Scientific Articles
MHSalud: Journal in Human Movement Sciences and Health by the Universidad Nacional is cover under a Creative Commons Atribución-NoComercial-SinDerivadas 3.0 Costa Rica license.

The journal is hosted in open access repositories such as the Institutional Repository of the Universidad Nacional, the Kimuk Repository of Costa Rica and La Referencia.
The editorial source of the journal must be recognized. Use the doi identifier for this purpose.
Self-archiving policy: The journal allows the self-archiving of the articles in their peer-reviewed version, edited and approved by the Editorial Board of the Journal to be available in Open Access through the Internet. More information in the following link: https://v2.sherpa.ac.uk/id/publication/25815