Financial resource contribution to production growth and return on producer's capital
Keywords:
cost of production, loan, deft, resource, profit, interest
Abstract
Financial resource contribution to production growth is a taboo issue in economic theory, especially if its source is the financial capital, which is part of the dynamic of any vigorous economy. Financial capital is a pivotal instrument of production growth due to the fact that its participation contributes to the process of transforming and transferring values from inputs to outputs. By doing so, financial capital encourages producers to generate not only outputs but also profit. Producers must transmute financial capital into financial resources in order to obtain output and profit. Therefore, the rate of interest becomes the way in which financial capital and producers get into the production process. This is to what this theoretical research is concerning.
Downloads
Download data is not yet available.
References
Fisher, I. (1930). The Theory of Interest. Retrieved from http://files.libertyfund.org/files/1416/Fisher_0219.pdf
Jehle, A., & Reny, J. (2011). Advanced Microeconomics Theory. Retrieved from https://www.amazon.com/Advanced-Microeconomic-Theory-Geoffrey-Jehle/dp/0273731912
Keynes, J. (1936). The General Theory of Employment, Interest, and Money. Retrieved from https://cas2.umkc.edu/economics/people/facultypages/kregel/courses/econ645/winter2011/generaltheory.pdf
Robinson, J. (1953-1954). The Production Function and the Theory of Capital. Review of Economics Studies, 21(2), 81-106. Retrieved from https://pdfs.semanticscholar.org/c70f/61352de7ee1641f0bc456639108c85029013.pdf
Villalobos, D. (2015). Production Cost, Prices and Income of Firms. Economía y Sociedad, 20(48), 1-17. doi: http://dx.doi.org/10.15359/eys.20-48.1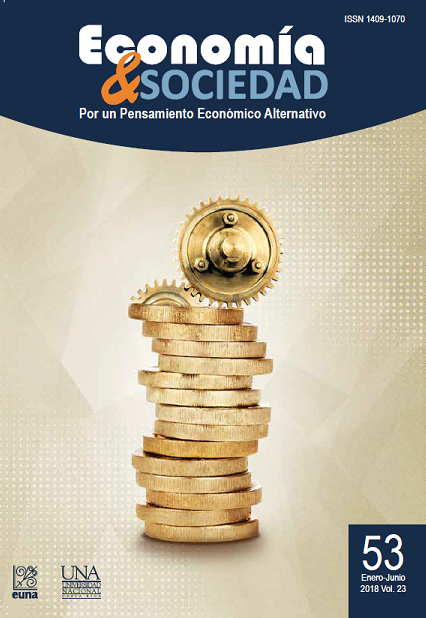 How to Cite
Villalobos Céspedes, D. (2018). Financial resource contribution to production growth and return on producer's capital. Economía Y Sociedad, 23(53), 1-18. https://doi.org/10.15359/eys.23-53.1
Section
Articles (Arbitrated section)
This publication is subject to the Creative Commons License; therefore, its attributions and restrictions must be respected.
Authors publishing in this Journal accept the following conditions:
Authors retain copyright ownership and give the Journal first publication right of the paper, which is registered with the Creative Commons Attribution-NonCommercial-ShareAlike 4.0 International License. This license allows third parties to use the published work provided it is sourced as firstly published in this Journal.
Authors may enter into other independent and additional contractual agreements for the non-exclusive distribution of the article published in this Journal (e.g., to be included in an institutional repository or published in a book) provided it is clearly stated that the work was published in this Journal for the first time.
Authors are allowed and recommended to publish their work on the Internet (for example, on institutional or personal pages) before and during the review and publication process, as it can lead to productive exchanges and a greater and faster dissemination of work published.
The Economía & Sociedad Journal, published by Universidad Nacional, is licensed under a Creative Commons Reconocimiento-NoComercial-CompartirIgual 4.0 Internacional License. Based on http://www.revistas.una.ac.cr/index.php/economia.
Most read articles by the same author(s)