Determination of the maximum oxygen consumption of Costa rica's first division football players in preseason 2008
Keywords:
Football, cardio respiratory capacity, sports performance
Abstract
The objective of this study was assessing the cardio respiratory fitness (VO2 max) of football players of Costa Rica's first division in preseason and comparing VO2 max., according to position. Methodology: in this study 9 football teams of Costa Rica's first division were evaluated, for a sample of 219 professional players between 20 and 36 years of age, average age 24.64 years-old ± 4.35; an average body weight of 73.34 Kg ± 7.34 and a fat percentage of 9.78 % ± 3.64. To assess the players' VO2 max., a treadmill ramp protocol was used according to recommendations proposed by Wilmore & Costill (2007); the test was of maximum character. Results: the VO2 max found was, average 57.71 ml/kg/min ± 8.8. On the other hand, no statistically significant differences were found (p = .752) between positions. Conclusion: There are no differences in VO2 max., by positions.
References
Alba, A. (2005). Test funcionales: cineantropometría y prescripción del entrenamiento en el deporte y la actividad física. (2 ed.). Colombia: Editorial Kinesis.
Arecheta, C., Gómez, M. y Lucía, A. (2006). La importancia del VO2 máx. para realizar esfuerzos intermitentes de alta intensidad en el fútbol femenino de élite. Revista Kronos, 5(9), 4-
Garrido, R .P. y González, M. (2006). Volumen de oxígeno por kilogramo de masa muscular en futbolistas. Revista Internacional de Medicina y Ciencias de la Actividad Física y del Deporte, 6(21), 44-61.
MacDougall, D. J., Wenger, H. A. y Green, H. (1995). Evaluación fisiológica del deportista. (2 ed). Barcelona, España: Editorial Paidotribo.
Moreira, S. B. (2008). The Evolution of the Individual Factors Performance in the Elite of the
World Soccer, between 1970 and 1998. Fitness and Performance Journal, 7(2), 107-111. https://doi.org/10.3900/fpj.7.2.107.e
Reilly, T. (1996). Aspectos fisiológicos del fútbol. Actualización en Ciencias del Deporte, 4(13).
Recuperado de http://www.sobreentrenamiento.com/Publice/Articulo.asp?ida=165
Silvestre, R., West, C., Maresh, C., & Kraemer, W. (2006). Body Composition and Physical Performance in Men's Soccer: a Study of a National Collegiate Athletic Association Division I Team. Journal of Strength and Conditioning Research, 20(1), 177-183. https://doi.org/10.1519/r-17715.1
Vargas, C. (2007). Consumo de oxígeno máximo telemétrico vs. Yo-Yo Endurance Test, en jugadores del fútbol profesional argentino. Revista de Entrenamiento Deportivo, 21(4),
-18.
Wilmore, J. y Costill, D. (2007). Fisiología del esfuerzo y del deporte (6 ed.). Barcelona, España: Editorial Paidotribo.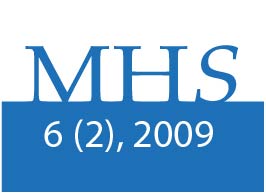 How to Cite
Sánchez Ureña, B., & Salas Cabrera, J. (2009). Determination of the maximum oxygen consumption of Costa rica's first division football players in preseason 2008. MHSalud: Revista En Ciencias Del Movimiento Humano Y Salud, 6(2). https://doi.org/10.15359/mhs.6-2.2
Section
Scientific Articles
MHSalud: Journal in Human Movement Sciences and Health by the Universidad Nacional is cover under a Creative Commons Atribución-NoComercial-SinDerivadas 3.0 Costa Rica license.

The journal is hosted in open access repositories such as the Institutional Repository of the Universidad Nacional, the Kimuk Repository of Costa Rica and La Referencia.
The editorial source of the journal must be recognized. Use the doi identifier for this purpose.
Self-archiving policy: The journal allows the self-archiving of the articles in their peer-reviewed version, edited and approved by the Editorial Board of the Journal to be available in Open Access through the Internet. More information in the following link: https://v2.sherpa.ac.uk/id/publication/25815
Most read articles by the same author(s)
Pedro Ureña Bonilla, Felipe Araya Ramírez, Braulio Sánchez Ureña, Jorge Salas Cabrera, Luis Alberto Blanco Romero, Quality of Life Profile, Overweight-Obesity and Sedentary Behavior in Elementary and High School Children of Guanacaste , Revista Electrónica Educare: Vol 14 No 2 (2010): Revista Electrónica Educare (julio-diciembre)
Luis Blanco Romero, Pedro Ureña Bonilla, Jorge Salas Cabrera, Braulio Sánchez Ureña, Technical performance profile of the four-time Costa Rican senior basketball league championship team , MHSalud: Revista en Ciencias del Movimiento Humano y Salud: Vol 8 No 2 (2011): Movimiento Humano y Salud
Gabriela Espinoza Acuña, Braulio Sánchez Ureña, Daniel Rojas-Valverde, Juan Carlos Gutiérrez Vargas, Kevin Cordero Duarte, Luis Blanco Romero, Acute Effect of Static and Dynamic Stretching on Performance and Perception of Exertion in Resistance Exercise , MHSalud: Revista en Ciencias del Movimiento Humano y Salud: Vol 18 No 1 (2021): Movimiento Humano y Salud (January-June)